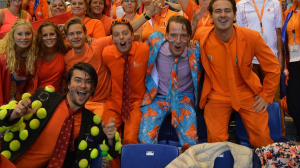 We welcome all students who enjoy playing tennis. We have a special and most favourable membership for Students.  
EUR 100 is the annual membership fee for students for which you can play 365 days all year long. There is a one off registration fee of EUR 25 and a yearly KNLTB contribution of EUR 17,78.
When you be come a member as of 1st of July of a calendar year you get 50% discount on the membership fee; you only pay EUR 50.  
When you have a Sports & Fitness Pass from THUAS (De Haagse Hoge School) your annual membership fee is EUR 75.  By registrating on the Leimonias website you have to download your student pass and your proof of subscription for the Sports and Fitness pass (bewijs van inschrijving). You can request this proof by sending a mail to Sportcampus campus@hhs.nl.    
For more info click below on "Lees Meer"
Lees meer