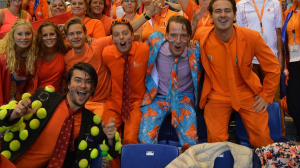 We welcome all students who enjoy playing tennis. We have a special and most favourable membership for Students.  
EUR 100 is the annual membership fee for students for which you can play 365 days all year long. There is a one off registration fee of EUR 25 and a yearly KNLTB contribution of EUR 17,78.
When you be come a member as of 1st of July of a calendar year you get 50% discount on the membership fee; you only pay EUR 50.  
When you have a Sports & Fitness Pass from THUAS (De Haagse Hoge School) you can join tennis clinics at Leimonias. We refer you to the sports app where you can register having this THUAS Sports & Fitness pass. For questions regarding the THUAS sports pass please send a mail to the Sportcampus campus@hhs.nl.    
For more info click below on "Lees Meer"
Lees meer