Doe mee!! Friendly doubles Royal Leopold Club 14/15/16 juli in Brussel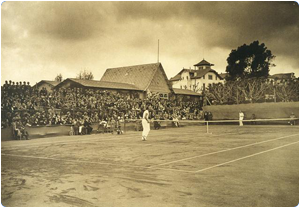 Er zijn nog plaatsen vrij voor enthousiaste tennissers in de leeftijdsgroepen 35+ en 45+ met een spelniveau 6/7/8!  Er wordt gespeeld tegen teams uit Londen, Parijs, Santander en natuurlijk Brussel. Meld je heel snel aan voor dit bijzondere evenement bij Liesbeth Zernitz 0681060133 of liesbethzernitz@gmail.com
De uitnodiging ziet als er als volgt uit:
CTC friendly doubles tennis tournament, July 14th-15th and 16th, 2023
VENUE : ROYAL LEOPOLD CLUB TENNIS
Located in a magnificent 5 hectare park in the heart of Brussels, our private club allows you to practice tennis, field hockey, fitness, padel or bridge in modern and efficient facilities.
We have no less than 21 tennis courts which are declined on 4 different surfaces: clay, French court, carpet and green set
Adress : 42, Av. Adolphe Dupuich, 1180 Uccle, Brussels Email : camille@leopoldclub.be
FORMAT OF THE COMPETITION
The CTC Competitions Committee has offered this year to organize for the first time the CTC Friendly Doubles with a new format.
Format : 2 Open Ladies, 2 Open Men's, 2 L 45+, 2 M 45+, 2 L 55+. 2 M 55+
EACH TIE TO INCLUDE
Matches per tie: 1 LD open, 1 MD open, 1LD 45+, 1 M45+, 1 LD 55+, 1 MD55+,
Round Robin 1 set with tie break
SURFACE : clay courts
BALLS : will be given by Royal Léopold club
DRESS CODE : at the club, we play in white. Shorts/skirts and polo's/t-shirt's must be white. Hoodies and pants can be colored.
WEATHER : it's Brussels, you never know :)
FEES : 500€/team
Offered by the Royal Léopold club Welcome drink
Saturday lunch Gala diner Saturday tournament
Little surprise
Not included Flight
Accommodation Breakfast
Friday night diner Sunday lunch
ACCOMMODATION
Option 1 : Hôtel "Ibis Châtelain"
Double room with breakfast : 132€/night 10 min away from the club (by car) website: https://all.accor.com/hotel/B638/index.fr. shtml
Option 2 : Hôtel "Le Châtelain"
Double room with breakfast : 139€/night 10 min away from the club (by car) website : https://www.le- chatelain.com/lc/en