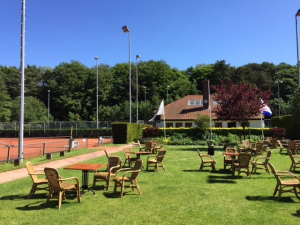 Leimonias HLTC is one of the oldest (over 130 years) tennis clubs in The Netherlands. It is situated in Klein Zwitzerland/ Scheveningen close to many International Organisations and Companies.
There are 8 clay courts and 6 all weather (smash)courts, all lighted, allowing members to play all year around
Multilingual coaches give tennis lessons (group, individual) all year around
The activity committee and youth committee organise many activities for all levels and ages (Wooden racket tournament, Last Sunday of the month mix in tournament, family tournament…)
The pavilion has a good quality catering with an enjoyable atmosphere including a spectacular terrace (also for private parties)
Around 50 teams playing in leagues of all levels (juniors, seniors, beginners, advanced…) throughout the seasons
The mixed team 1 plays at the highest level of the national competition and has won the Dutch club championships over 20 times (top level tennis enjoyed at your own tennis park)
Member of Centenary Tennis Clubs Association (club exchanges yearly, possibility to visit and play within all other 80 member clubs all over the world)
Located next to Max Health Club (gym, spa, pool, physiotherapy and daycare)
If you would like to get in touch with us, please email (expats@leimonias.nl), give us a call (070-355 76 76) or come visit us at the Klatteweg 103 in the Hague.
You can also find us on Facebook.